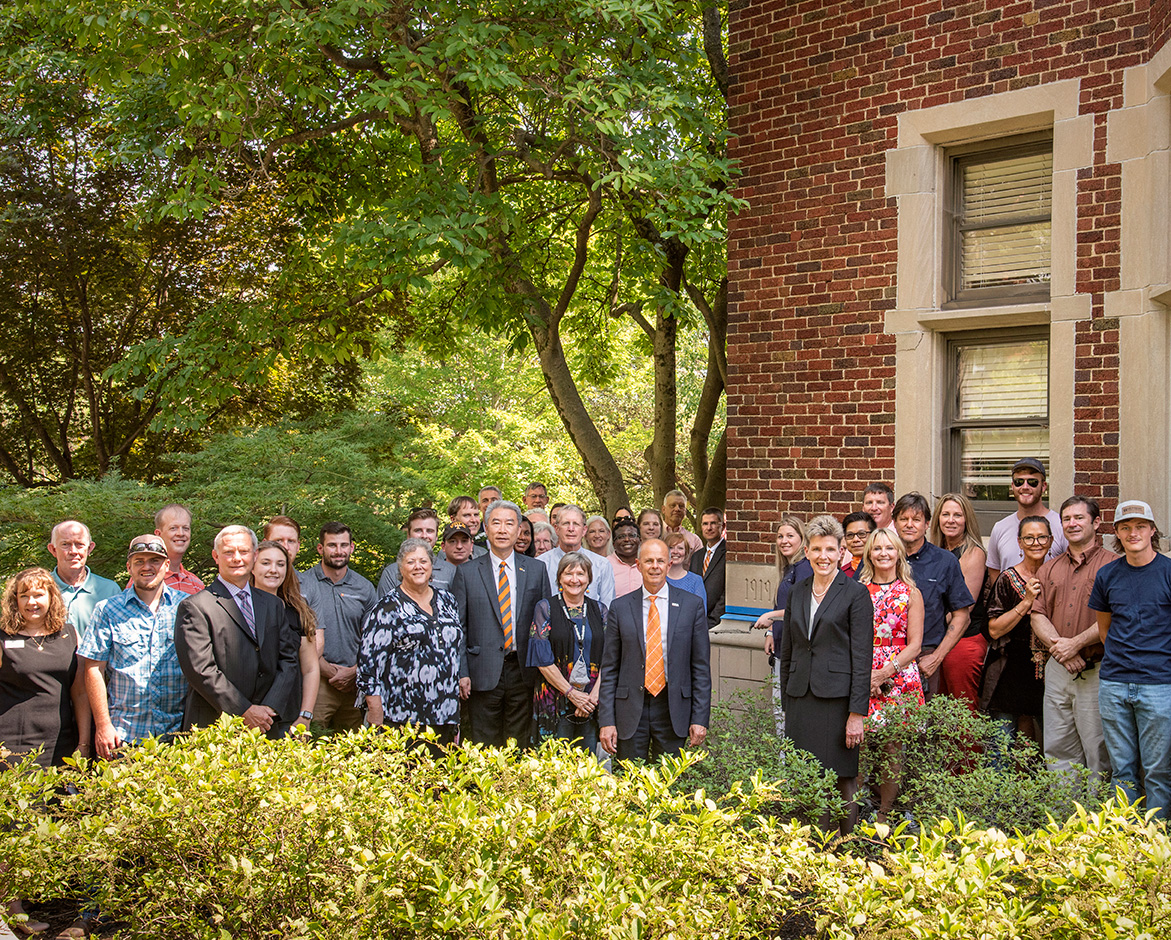 Contents of the 2021 time capsule installed in Morgan Hall at the University of Tennessee Institute of Agriculture campus in Knoxville in honor of the building's 100th year of operation.
The program from the Morgan Hall Centennial Celebration.
A list of dignitaries present for the Centennial Celebration.
A fact sheet about UTIA operations and descriptions of its four units: UT AgResearch, UT Extension, UT Herbert College of Agriculture, and UT College of Veterinary Medicine.
An orange COVID mask printed with the Institute's wordmark and brand of Real. Life. Solutions.
A published interview of the Institute's inaugural director of diversity, equity, and inclusion, Craig Pickett.
A UTIA lapel pin.
A UTIA Smith Center for Sustainable International Agriculture luggage tag.
An engraved wooden Together We Grow ornament in honor of the record-setting UTIA capital campaign.
A card detailing UT Herbert College of Agriculture's strategic impacts.
A card detailing AgResearch's strategic impacts.
A list of 2021 Field Days.
An overview of the UT systemwide One Health Initiative and UTIA member roles in it.
A document that describes Extension and identifies its leadership, mission, vision, core values, and organizational principles.
A Transforming Tennessee lapel pin to mark Extension's 2010 centennial.
A brochure about UT Extension Family and Consumer Sciences.
An overview of the USDA initiative to create a farm and ranch stress assistance network, whose southern region leader is Family and Consumer Sciences faculty member Heather Sedges.
A brochure announcing the naming of Herbert College of Agriculture and explaining the naming's significance.
A Herbert College of Agriculture orange and white scarf.
A brochure about the Tennessee 4-H Youth Development Program.
A 4-H blue ribbon.
A 4-H clover lapel pin.
A fact sheet about impacts of the College of Veterinary Medicine.
Two 3D-printed biomaterial devices used for bone and nerve tissue regeneration.
A 3D-printed surgical guide used to treat atlantoaxial instability in canines.
A commemorative UTCVM coin.
A neuter and spay promotion magnet from UTCVM
Pint and quart milk tokens from the original UT Creamery to commemorate a new UT Creamery expected to open in the near future.
A document that explains how the 2021 time capsule was manufactured.
A certificate of appreciation to the caretakers, present and past, of Morgan Hall and to the skilled craftsmen who constructed such an enduring building. The document was signed by members of Facilities Services and Landscape Operations who presently care for the building and its grounds.
A photo from the 1919 cornerstone laying that shows some of the building's construction workers with then-President Harcourt Morgan, his son, and faculty and staff.
A Tennessee Farm Bureau Federation centennial lapel pin presented by Tennessee Farm Bureau Federation President Jeff Aiken.
A card that lists and explains the Be One UT values developed for the university and presented by UT System President Randy Boyd.
A 3D-printed commemorative UT coin presented by Boyd.
A page that identifies the Volunteer Principles for Leading with Courage formulated to guide UT Knoxville during the pandemic presented by UT Knoxville Chancellor Donde Plowman.