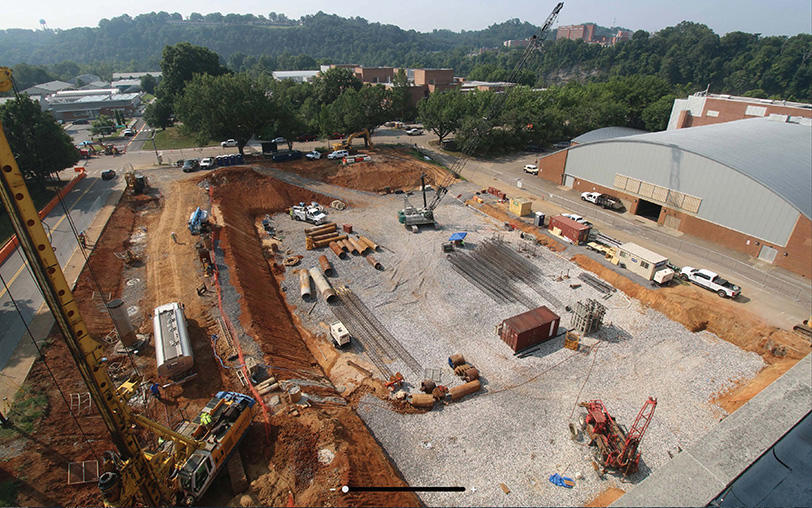 By Steve Glafenhein, director of General Services
Here's the status, as of July 30, 2021, of major capital improvement projects underway at the University of Tennessee Institute of Agriculture.
Energy and Environmental Science Research Building
Demolition is complete.
Site excavation is complete.
Deep foundation piles started July 12 and are scheduled to finish on November 24 (approximately 97 days). A total of eighty are required with ten installed as of July 30. The photo shows the drill rig in foreground.
Electrical ductbank installation: July 12 to August 6.
Storm sewer installation: August 2 to August 10.
Steam and condensate installation: August 2 to October 15.
The current completion date is on schedule to occur October 2023.
The move-in date is targeted for January 2024.
Teaching and Learning Center
Structure steel installation is in progress and, as of July 30, was approximately 75 percent complete.
Exterior wall framing installation is expected to start in August or early September.
The schedule now has a tentative completion date of March 2022.
Lone Oaks Farm Cabins and STEM Center
As of July 30:
Site excavation was 90 percent complete.
Site infrastructure was 50 percent complete.
Road base was 75 percent complete.
Pad construction for the STEM Center has begun.
Occupancy is now expected to occur fall 2022.
Future Projects in Design
Morgan Hall improvements—new windows, doors, and brick repointing.
Clyde Austin 4-H Center, Greeneville, Wildlife Building—improvements.
East Tennessee AgResearch and Education Center Little River Animal and Environmental Unit improvements—robotic milking addition.
Johnson Research and Teaching Unit, Center for Renewable Carbon/MAST, and Biosystems Engineering and Soil Science—HVAC improvements.
Several smaller projects statewide that are in planning, design, or construction will be described in a future issue of Common Ground.