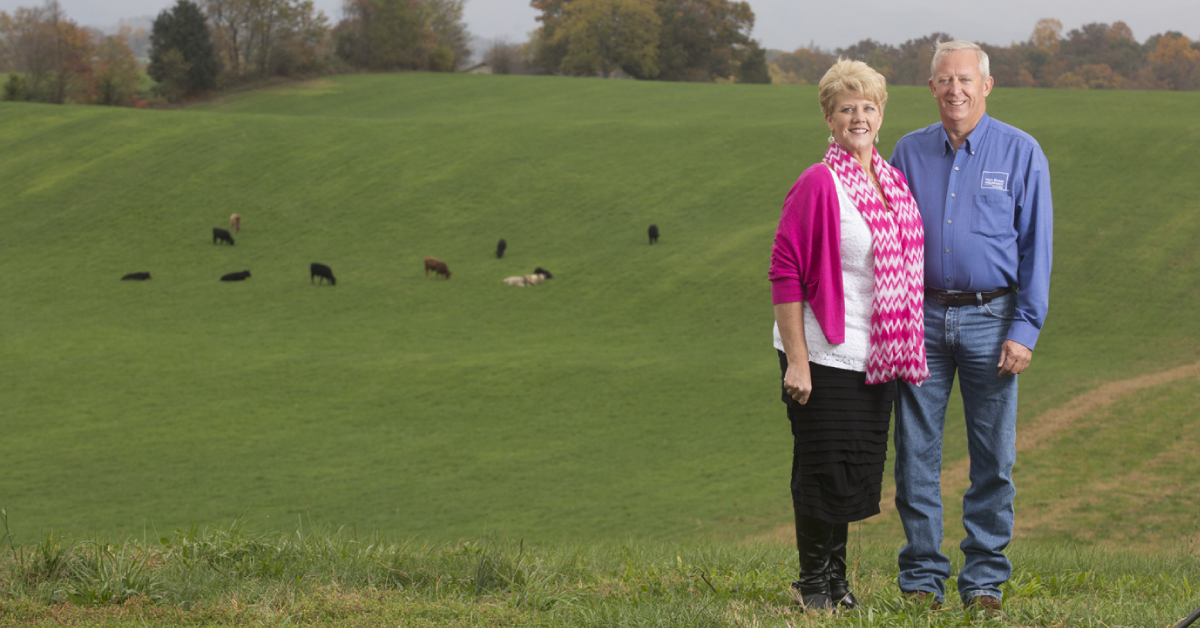 Jeff Aiken Receives Distinguished Service to Agriculture Award
KNOXVILLE, Tenn. — The Tennessee Chapter of Gamma Sigma Delta, the International Honor Society of Agriculture, has honored Tennessee Farm Bureau President Jeff Aiken with its 2021 Distinguished Service to Agriculture Award.
A lifelong resident of Telford, Tennessee, in Washington County, Aiken is a third-generation farmer and the eighth president in the Tennessee Farm Bureau Federation's history. Including its insurance arm, the organization currently serves more than 680,000 members.
Along with his two brothers, Aiken and his wife, Carol, manage more than 900 acres where they raise tobacco, beef cattle and hay. Aiken first became involved with Farm Bureau through the Young Farmer and Rancher's organization. He served as the YF&R state chair in 1992, and in 1993 he and Carol were named the Tennessee Young Farmers of the Year. He is also the first state YF&R chairman to go on to serve as the Farm Bureau state president.
Aiken first began serving on the state Board of Directors in 1998 when he was elected a director-at‐large by the Farm Bureau's county leadership statewide. He continued to serve in that position until 2013 when he was elected to serve as the organization's vice president. During his tenure on the state board he headed‐up numerous committees including chairing the State Resolution's Committee from 2013‐2015. He served on the Washington County Farm Bureau board from 1982 until 2015 and during the period from 1995-2008 he served as county president.
Aiken currently serves on the Board of Directors of the American Farm Bureau, the Tennessee FFA Foundation, First Farmers and Merchants Bank, and the Maury County Chamber and Economic Alliance. "I am truly honored by this recognition from Gamma Sigma Delta," Aiken said. "Carol and I have been blessed to work in the best industry and with the best people all our lives. Many of them deserve to share this incredible honor, including the wonderful staff at TFBF. Agriculture is our most important industry, and we have to keep sharing our story to ensure a sustainable future."
Rob Holland, UT Extension interim assistant dean for agricultural and community economic development programs and director of the Center for Profitable Agriculture, nominated Aiken for the award. "There is no argument that Jeff Aiken has provided distinguished service to agriculture," says Holland. "He is certainly worthy of the utmost recognition and appreciation for the countless ways he contributed to and supported the agriculture industry in our state and throughout the U.S. I'm glad to call him friend, a colleague, and a mentor."

Earlier in the year, Aiken announced he will not seek re-election as president for a fourth term. He is excited to be returning to his farm full time in Washington County.
The Aikens are members of Oakland Cumberland Presbyterian Church where he has served as Sunday School Superintendent, teacher, deacon and elder.

Headquartered at the UT Institute of Agriculture, the Tennessee Chapter of Gamma Sigma Delta recognizes leaders of Tennessee agriculture and exceptional students and faculty. This year Aaron Smith, associate professor of agricultural and resource economics with UTIA, is serving as the chapter's president. Annette Wszelaki, UTIA professor of plant sciences, served as chair of the awards committee. Founded in 1913, Gamma Sigma Delta is the oldest and largest honor society emphasizing scholarship and achievement in agriculture and natural resources.
A virtual celebration for all 2021 award winners and student initiates was held online on November 19. Anni Self, plant certification administrator and state plant regulatory official with the Tennessee Department of Agriculture received the organization's Alumni Award. A complete list of award winners is available at utianews.tennessee.edu.
Through its land-grant mission of research, teaching and extension, the University of Tennessee Institute of Agriculture touches lives and provides Real. Life. Solutions. utia.tennessee.edu.