Here are stories faculty and staff with the University of Tennessee Institute of Agriculture shared in May 2020 about how they transformed their work during the novel coronavirus pandemic.
We are asking UTIA members to provide information about how they have succeeded in their responsibilities amid the pandemic. The stories are important because they capture the ways we have found to deliver our mission of teaching, research, and outreach during a historic time.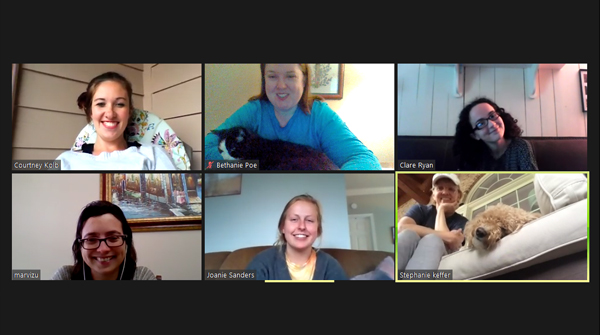 Bethanie Poe, Middle Tennessee HABIT coordinator, UT College of Veterinary Medicine
In mid-March, Human Animal Bond in Tennessee (HABIT) suspended visitations due to COVID-19. That includes its programs in the Nashville area. While in-person visitations are suspended, we arranged for HABIT volunteer teams to continue to provide comfort at the Nashville Family Safety Center, one of the largest family justice centers in the country. I arranged virtual visits with HABIT volunteers and FCS staff. Part of the FCS mission is to care for the caregivers, a role the HABIT dogs fill without hesitation. Usually a handful or so of staff members join the visit for their virtual fur fix and get to see the dogs in their natural habitats. The focus is on the dog, and a lot of times the dog is sleeping or just lying there looking around. The staff ooh and aah over the dog, talk to the volunteer because they've developed a relationship, and they have a chance to see each other during this time of being socially apart.
James Newburn, interim director, UT Gardens
As our community began to shut down and people started staying home, we at the UT Gardens, Knoxville, recognized that folks were clamoring for seed to start their own garden. We heard from people concerned about economic and food security as family members were furloughed or lost their jobs, and they wanted to start a vegetable garden. We also heard from families that want a garden as an activity to do with their kids to serve as a fun and educational component to stay-at-home directives. UT Gardens had extra vegetable and flower seeds from our work, and we provided these free to the public with contactless distribution in our Kitchen Garden.
We also have a popular plant sale each spring, which was canceled this year due to COVID-19. However, people were still interested in purchasing plants. Again, these included individuals who had time at home to start a garden and were concerned about food security, and others who wanted an activity to do with their family. In response to these people and interest on the part of others, we switched our sale to an online event and created a catalog of plant offerings. We had a two-week online sale that featured more than seventy plant offerings. Folks preordered and paid online. We then offered a two-day window in which to pick up the plants. People scheduled a time to come by. We had the orders already gathered and alphabetized by last name. People then came to the parking lot at their scheduled time and texted their name and parking space number. Using social distancing protocols, we brought their purchases to their cars and loaded them to keep the process completely contactless. It was a huge success, and customers were thrilled to be able to garden.
Marcy Souza, associate professor and director of veterinary public health, UT College of Veterinary Medicine
Throughout the pandemic response over the past few months, I have striven to provide information on the pandemic, its effects on animals, and One Health to people in my local community and the state of Tennessee. Sandra Harbison, my college's media guru, has helped facilitate these various pieces of public education. This information has been delivered through:
For the past five years, I have taught an online course about One Health during summer semester. The course is completed mostly by dual DVM/MPH students and other graduate students across the university. I will also offer it this fall for DVM students who want to complete it as an elective. One of the learning outcomes for this course is to apply scientific literature to aid in solving educational and policy issues associated with public health. All students and professionals in scientific fields need to be able to communicate effectively with the non-scientific public. As part of the course, students must create various educational materials on One Health issues as a way to refine their scientific communication skills. This summer and fall, I am providing some of the news stories linked above as examples for the students. While my glass of lemonade was initially intended to educate the public, it is now an entire pitcher that will provide examples to my students of ways they can engage with and educate the public as they move forward in their professional careers.